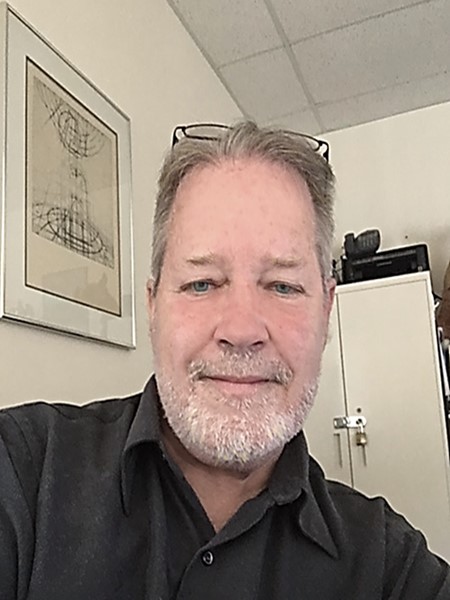 ​​​​​​​Greetings
Andrew A. Cullen has been writing and publishing under the pen name P.R. Otokletos since 2004. Some visitors may discern that the pen name is a play on the Greek "protokletos" ... meaning "first called" in reference to the Apostle Andrew from Holy Scriptures. And yes there is a connection to "protokletos" with respects to the author although there is little chance that the personal meaning could be determined. And this is just the point ... it is not about the author! The adoption of a pen-name is for the sole reason of letting folks know that it really isn't about the author but rather the one who called the author!
So ... what's up with the site and the materials being provided ... what's the author's story?
Years ago I was personally lost and seemingly without hope. Oh don't get me wrong ... I had a good job ... great spouse ... great children ... you know ... all the right stuff ... active in town ... in politics ... you get the idea! But ... something was dreadfully wrong; I was scared to death of death and deep in my heart I knew that I was just plain missing G_D ... missing Messiah in my life! It was this simple!
When I attempted to reengage G_D however with my previous faith stream ... with my previous perspective ... with my previous heart ... it just did not work. I struggled mightily for many months finally breaking down and giving it all up to G_D! And ... He had me start all over again ... right back to square one and this new beginning commenced with going back to His Word. Amazingly what happened is that I saw things quite differently this time around ... I mean really differently. So differently that within a short time I was suspicious that all my previous Catholic/Christian/Hellenic theological immersion was not only confused and inconsistent with Holy Scriptures but frankly way off base!
Consequently I began a serious search and was thrilled to find that I was not alone and that there were many others out there also searching. There were many others that were being pulled in the same direction that I was. People from very diverse faith streams and cultural environments. Fortunately for me I was blessed to find a Messianic shepherd that knew what was going on ... who knew what the real gospel message was supposed to be about ... who had experienced some of the Gospel's transformational power. I am greatly indebted to my brother and others who supported me through this period of my life ... this support for me was invaluable and ensured that my great journey began with a solid foundation.
At this same time I was drawn into G_D's Word ... pouring over the Hebrew and Greek texts ... letting G_D rework my mind to understand his Word in a proper Hebraic context. A context in which the Word of G_D was given and meant to be understood. The results of these endeavors are reflected here on this website!
Now before you conclude the author is some kind of a "whack-job" ... please be aware that: I am a professional Information Technology Planner and Strategist ... I've been employed at various corporate level positions for over 25 years ... I've served as Mayor of a 25,000 person community ... you get it ... according to this world I am doing A-OK! Most people would consider me to be quite logical, reasonable, well-grounded and successful. And the funny thing is ... that it is they who would be mistaken because all that stuff means "NOTHING" ... at least in terms of what is important with regards to a real human legacy! After reflecting on things I have since 2014 professionally dedicated my efforts in support of a regional non-profit social services agency which caters to persons with disabilities.
You see, within our traditional Hellenized culture, that stuff listed above is how we are viewed ... that stuff above is how our societal worth is evaluated and determined. In our Hellenized world that stuff defines me because it represents "what I have gotten" ... "what I have made of myself"! My education ... my job ... my income ... where I can afford to live ... etc. But that should not be our legacy. Don't get me wrong; we should be evaluated by what we do ... but in the Hebraic perspective how I make my living does not define who or what I am necessarily ... in the Hebraic worldview I am either a covenantal child of G_D ... or I am not; I am either a valid and effective member of Kingdom Israel or I am not ... it is a very simple model to determine value! And ... it is a perspective supported within Holy Scriptures.
In the Hebraic perspective we are all just as important and it is vital that we all be successful in our pursuit of G_D's good will and purposes. Consequently I do this work and maintain this website not because it is important that my voice be heard but rather that G_D's good will and purpose for my life and the lives of others is also realized ... for G_D's honor and glory alone! It is important that others realize the power of the Gospel is not in mutually affirmed beliefs but in being transformed from disobedience to obedience ... being transformed from ego-centric thinking to G_D centric thinking ... being transformed from a person that mentally believes in a doctrine to a person that is a member of Kingdom Israel and lives according to the standards of the Everlasting Covenant and is most importantly defined by their journey with G_D ... their Aliyah!
The Hebraic perspective works and materials provided on this site represent various aspects of a journey ... a journey that is not so unique within the Messianic community. A journey that abides in and through Mashiach Yeshua along the path which He has paved. A path that is covenantal and guided by the very light of G_D ... His Torah ... His Word ... His Yeshua ... through the loving movement of HaRuach Kodesh (Holy Spirit)! Mashiach Yeshua has made this once alien enemy of G_D into a lawful citizen of His Kingdom Israel! Today the author pursues a Messianic Jewish lifestyle with complete liberty and has delved into the mysteries of G_D with every available ounce of energy that G_D provides to me ... Bless His Holy NAME!
I know folks ... it does sound crazy ... and nearly twenty years ago it would assuredly have sounded crazy even to me ... but it's not! Not only is it not crazy but now any other form of perspective or lifestyle to me would be foreign. And how can I be so sure ... how can I declare that this is absolutely correct? ... Because I personally am what I was not ... willingly and contentedly obedient. I certainly do not mean perfect ... not by any stretch ... but I do mean consciously and intuitively obedient. I mean willingly and joyfully lawful. I mean just consumed with G_D's awesomeness ... never getting enough of Him ... always wanting to know more so that I can make my life in Him better ... for His glory and honor! I stumble from time to time (more than I would desire) but I am surely no slave to sin or this temporal world ... I shall not fear! Barukh HaSHEM!
And ... crazier still; I have come across believers that are similar, like the Psalmist Yochana who is prominently featured on this website and to whom I am humblly indebted to. Oh we are assuredly different in many individual respects ... but when it comes down to general perspective ... to Spirit filled loving of G_D and each other ... to understanding this transformation that is affecting us ... to understanding what the purpose of all this is ... to being in union when we worship G_D in Spirit ... well let me tell you something ... this is when it all gets "REAL"! When the Words from Holy Scriptures which are pondered on the Sabbath and all times make their way into the very community members' lives ... oh yes indeed it is "REAL"!
Please be aware however that there were times past ... months and perhaps years ... where I did not have the luxury of a community ... of having "mishpocha"! Some times these blessings seemed extremely far away ... or maybe even a fantasy and completely out of reach while the solitary journey appeared to difficult to travel? It is in these times when G_D's children must remember that intercession is being made on their behalf and others labor for the good pleasure of the LORD ... so do not think for one moment that G_D who gifted Cornelius with his Spirit will not do the same for you ... remain steadfast in your search for Messiah. If you seek him diligently you will assuredly find him ... even in the depths and loneliness of the wilderness. So follow the Spirit that has you seeking him diligently ... exercise Berean like caution ... and pray that you find a fellowship of true believers!
Now to the finish line ... and I hope some of you actually made it this far ... LOL! If the LORD wills that this day is the day that I will go and sleep with the fathers in the dust ... I will be just fine with this! No fears ... no wondering about what will happen ... just praising His Name and thanking Him for not smoking my sinful carcass while I was in open rebellion. Beloved children of G_D ... please enjoy the testimonials to G_D and His Mashiach Yeshua at this web-site; at the end of the day we are called to be witnesses and this author can only pray that this testimony in some small fashion draws people to HIM for HIS honor and glory!
Let everything that has breath praise The LORD!
Shalom Aleichem... P. R. Otokletos